Ah, ini dia yang paling ditunggu-tunggu: Book Kaleidoscope mhuahahaha. Sebenernya Book Kaleidoscope ini udah dimulai sejak kemarin, tapi kemarin aku tahunya pas udah malam banget, jadi nggak sempet milih-milih pacar terbaik yang aku miliki di tahun 2013. x) Baru deh hari ini aku sibuk milih-milih pacar.
Tahun 2013, aku banyak berkenalan dengan cowok-cowok yang nggak cuma ganteng di luar, tapi juga ganteng di dalam (baca: cowok dalam buku, in reality di kampusnya si blogger ini nggak ada yang too good to be true.. *yaiyalah*). Saking banyaknya, aku bingung kalau cuman pamerin lima doang. Takutnya nanti mereka yang nggak dipamerin malah ngambek, berasa nggak diakui. :p
#WoyFokusWooooy
Aku kalau ngomongin cowok ya begini. Heboh sendiri. Yah.. kodrat seorang wanita normal lah. x)
Well, setelah menimbang-nimbang, Top Five Book Boyfriends-ku tahun 2013 adalah... *drum-roll*
5.

Mr. Darcy

, from Pride and Prejudice by Jane Austen
Oh, how can I resist this gentleman? *meleleh di depan laptop*
Untuk bentuk visual yang aku rasa cocok untuk Mr. Darcy ini aku pilih berdasarkan banyaknya aktor yang berperan sebagai Mr. Darcy dari film Pride and Prejudice sejak tahun jebrot sampai tahun 2000an. Aku rasa Matthew MacFadyen adalah Mr. Darcy pilihanku. ;)
Matthew MacFadyen as Mr. Darcy
4.

Ian O'Shea

, from The Host by Stephenie Meyer
Kalau di serial bling-bling I have no favorites (cuman seneng sama Alice, dan dia cewek, bukan cowok), di buku yang satu ini aku malah sampai berbusa bilang kalau aku cinta Ian!!! *lebay* Alasan? Because he loves a girl just the way she is. Tulus banget si Ian iniiiiii. :')
"Her name is Wanda, not it. You will not touch her. Any mark you leave on her, I will double on your worthless hide." —Ian O'Shea

"It's not the face, but the expressions on it. It's not the voice, but what you say. It's not how you look in that body, but the thing you do with it. You are beautiful." —Ian O'Shea
The Host ini udah di-film-kan. Ian O'Shea movie version-nya Jake Abel.. dan aku nggak keberatan. :)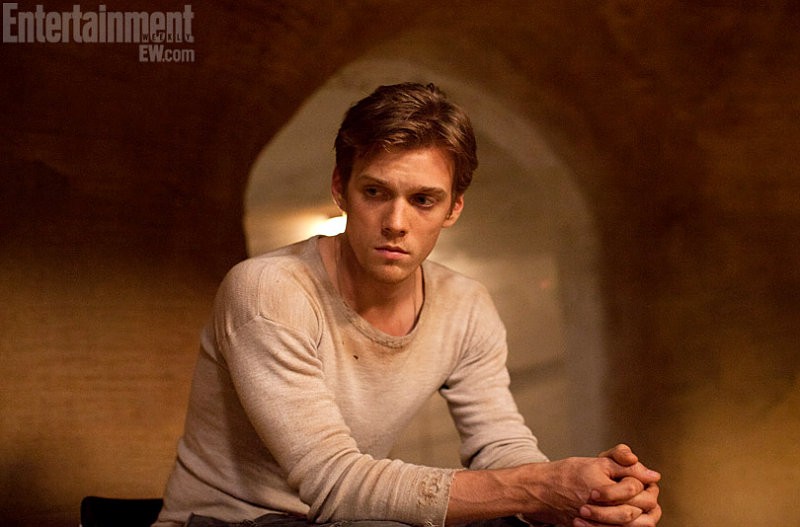 Jake Abel as Ian O'Shea
3.

Alejandro Putra Vimana

, from All You Can Eat by Christian Simamora
Resepnya Jandro untuk buat aku jatuh hati itu simple: DIA SUKA BACA BUKU! DIA BRONDONG!! DAN DIA BISA MASAK!!! *nyamnyam* ♥ Siapa yang cocok meranin Jandro kalau-kalau buku ini mau dijadiin film? Errr... kok kayaknya aktor lokal belum ada yang se-hot Jandro ya? *dilempar sendal sama aktor lokal*
2.

Jack Harper

, from Can You Keep A Secret by Sophie Kinsella
*lalu ngakak keras-keras* (?)
JACK HARPER, aku padamuuuuu! Suka sama Jack Harper karena dia hobi banget ngusilin Emma Corrigan pake rahasia-rahasia Emma yang accidentally kebongkar (Emma sendiri lho yang told him everything about her secrets, even rahasia yang paling memalukan) di depan Jack Harper pas pesawat yang mereka naikin bermasalah. xD Geli sendiri kalau aku inget Jack yang usilnya naujubilah ini. Selain keusilannya ini, aku juga suka sama gayanya yang soooo informal a.k.a urakan di kantor padahal dia itu bos. :))) Cowok yang menurutku cucok meranin Jack Harper adalah Sam Claflin.
Sam Claflin as Jack Harper versi rapi :p
apa jadinya kalau di kantor ada atasan yg begini? *.*
... AND MY TOP-EST (ini maksa banget English-nya) BOOK BOYFRIEND IN 2013 IS ...
*drum-roll (again, kali ini lebih keras dan lebih lama)*
1. Augustus Waters, from The Fault in Our Stars by John Green
I fall in love with Gus because.. he loves Hazel that way, he treats his friend that way, and he acts that way. I love him because he uses his Wish for Hazel. I love him because he has big heart. I love him because... *oh, man.. NO! I'm not crying here!* :'((((((
I couldn't agree more if Ansel Elgort is the one who becomes Gus! ♥
Memangnya siapa yang nggak terenyuh lihat poster film yang satu ini? :')
*entah kenapa ngerasa Shailene sama Ansel cocok banget pas lihat ni poster*
Ansel Elgort from The Fault in Our Stars
Demikian daftar pacarku (ngaku-ngaku) di tahun 2013. Bagaimana dengan pacar kalian? :)))